We're hunting high and low for Norway's most promising Creative Tech startup. Is that you or someone that you know? Apply now!
What is Creative Tech Hunt?
Creative Tech Hunt is a national hunt for the most promising CreativeTech startups in Norway, aiming to create awareness and contribute to growth for the ecosystem of CreativeTech. 657 Oslo has been the initiator and national host since 2015, in cross-collaboration with national partners throughout Norway.
We host 5 qualifying Tech Hunt rounds focusing on the 5 different creative industries:
Creative Tech Hunt Finale
You find yourself being the founder of a startup within the creative industries that's leveraging technology to scale in innovative ways. From there you submit an application for the Tech Hunt you want to apply for.
We invite 5-10 startups to join a closed event here at 657 Oslo, where you will get an exclusive workshop relevant for your business. We will invite business actors, investors, potential customers, mentors, and other ecosystem players we think the start-up companies could have value in pitching to.
A jury will choose winners from each Tech Hunt to directly compete in the Creative Tech Hunt finale during Creative Tech Week Oslo in November. The jury will choose a national winner that wins some great prizes alongside a place to participate in the international pitch competition Creative Business Cup in Copenhagen Spring 2024.
Community
Expanding networks build relationships
Provide customer leads
Exposure through media channels
Scaling Knowledge
Knowledge sharing
Expert feedback
Industry competence
Funding opportunities
Creative Culture
Raise the bar and awareness for CreativeTech startups
Grow the ecosystem for creative tech
Visual, digital & performing arts
Music
Literature
Film & photography
Gaming
TV & radio
Publishing – newspaper, magazines & books
Architecture
Fashion & design
Advertising, marketing & event
What does CreativeTech really mean?
CreativeTech is a collective term for technology and/or innovation that scales one or more of these industries. Whilst the influence of the entire creative industry has been fundamental to the emergence of the concept, it does have a certain specificity. It can be defined as "technological solutions and/or digital services related to the development, production, dissemination, sale or distribution of artistic, cultural and creative content."
Throwback to previous Creative Tech Hunt's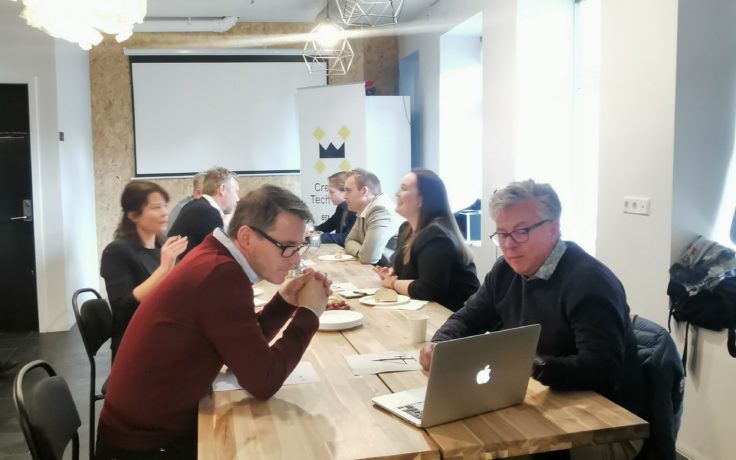 2022
Masterchannel
2021
Gameflow
2020
Songpark
2019
Voisey
2018
Capeesh
2017
Sknow
2016
Graphiq
What our previous participants say…
Ntention
Trondheim
"We made connections with some partners who can be valuable as advisers and strategy sparring partners."
New Movements
Oslo
"We got a very interesting lead for one of our upcoming R&D projects."
Digme Learning
Stavanger
"Booked meetings to get legal assistance  regarding IP. The event also added important expertise to our network."
JoyTech
Oslo
"The concept and the shape of the event was great. A good combo of chatting, presenting and sharing experiences. I also like the part that it was not only a pitching contest."
Meet our regional partners making the catchment area nationwide! Interested in hosting a regional final? Reach out to karoline@657.no